Buy Direct from the
Grower
Karintha Orchards PTY LTD
Mitchell Road
Newlands
Donnybrook
Western Australia
Fax: (08) 97310106
Mob: 0427 316277
Postal Address:
PO Box 457
Donnybrook
WA 6239
ABN: 20 009 100 556
Email:
tracy@karinthaorchards.com.au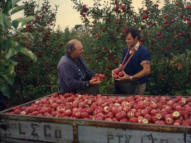 Loading map ... please wait..
.
Location of Karintha Orchards
You can buy fruit direct from our orchard shop open

8:00am to 6:00pm

every day. If you
have any special requirements, please call us first.